We have released the ability to sync and control more data with your e-commerce stores. Saasu has e-commerce integrations built-in and are an included feature in all Saasu subscriptions.
Sync your Sales payments in your e-commerce store with your Saasu Sales.
One of the most requested features was to payments sync. You can now set payments accounts in Saasu associated with your E-commerce store. This saves you having to apply payments manually in Saasu. Saasu has automatically loaded these payment methods where possible for existing customers ready to select your Saasu Bank/Payment Account for each.
For existing orders that have been synced prior to this release that don't have payments applied and/or have been converted to Tax Invoice manually, you can go to AddOnConnector page, backdate the processing date and click 'Start Processing'.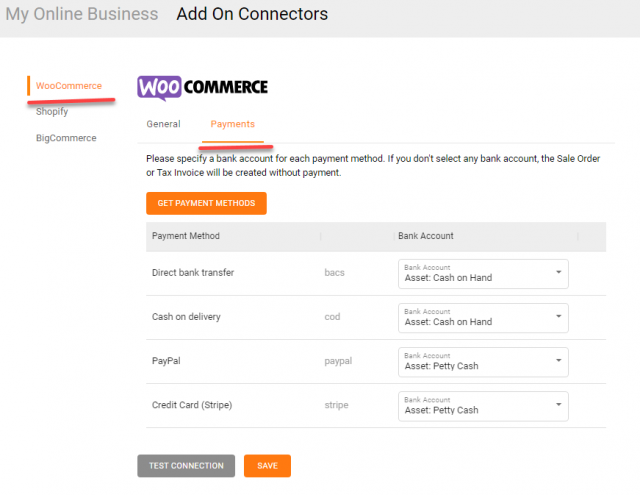 Set the Order Status in your E-commerce store that you want to sync to Saasu.
Businesses work in different ways and our customers wanted to control what types of orders to sync to Saasu basis their processing status in their e-commerce platform. We also needed to ensure it is in a like for like basis. For example a transaction that is Fulfilled in e-commerce systems is likely a Tax Invoice in Australia. So we have made it clear what happens behind the scenes in the settings area and provided some control of that where possible.
We now do more behind the scenes. If the orders sync as a Sales Order initially but then update their order status to Shipped/Fulfiled/Completed in the e-commerce platform, Saasu automatically converts the Sale Order in Saasu to Tax Invoice on the next sync.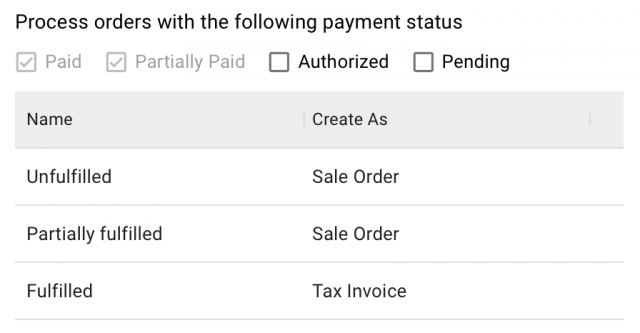 Setting Tax Codes basis Inventory Item settings.
Often in e-commerce goods can be GST Free or not need a Tax Code at all. e.g. some financial acquisitions. So we have allowed you more control over what to do, which tax code we should apply in Saasu when we see an Order in e-commerce without a clearly defined tax code. Saasu will now set Tax Code for Orders and Order Items in Saasu basis the Inventory Item settings where a Tax Code hasn't been set in your e-commerce system.
To see and use the new settings visit the Settings area and then Add-on Connectors. You will see a new Payments Tab and new sections for Processing and Tax Code Settings related to e-commerce.