Online Accounting for Small Business
Bank feeds, online invoices, expenses, cashflow, inventory and single touch payroll from $15 per month. Online accounting that's made in Australia.
Stage one of the New Saasu arrives August 2020
Get email updates about releases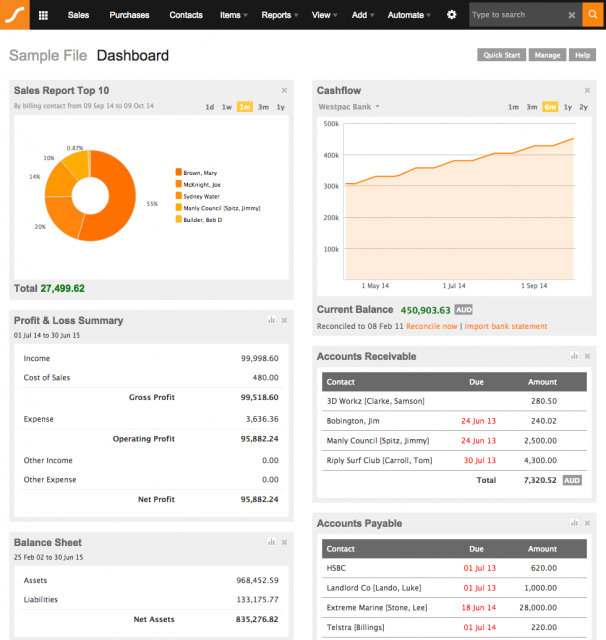 $200 Billion of online accounting transactions managed.
What is online accounting?
Saasu is web browser and mobile app online accounting (Apple and Google).
We securely manage, backup and upgrade online accounting data on private cloud servers at Amazon and Rackspace in Australia.
Learn about online accounting features.
Who's it for?
Saasu online accounting is designed for sole traders, contractors, startups and small businesses. Thousands of product and service businesses use cloud accounting to run efficiently. BAS and Single Touch Payroll are in all our plans.
Benefits
Anywhere, anytime
Saasu supports you working from home, in offices or on the road. Create professional quotes, invoices and view business performance on-the-go. Real-time data allows you and your advisors to make better decisions.
Automate data entry with bank feeds
It takes a few minutes to setup Bank feeds and your transactions will start coming across to Saasu online accounting.
Accept payments
Accept credit cards straight from a Saasu online invoices using payment services like eWay, Stripe and Paypal. Get paid on the go. Better for you and easy for your customers because they can manage their invoices online.
Data synchronised
Saasu connects and synchronises with popular business tools. This means our inventory works with several e-commerce platforms. The benefit is that you don't need to build one yourself. So your product names, prices, stock levels and more update on your website automatically. Saasu supports connections to PayPal, eWay, Stripe, Shopify, Magento and many more.
Real-time reports
Keep on top of your business performance and cashflow with built-in reports and your small business dashboard. Tags allocate contacts and transactions into jobs and projects.
Live cashflow
Get paid sooner because we make it easy to invoice your clients on the spot. It feels good to bill people before you've even left the site or stood up from the meeting table. Then you can keep track of your future cashflow that looks 3 months forward.
Professional invoices
They make you look good. Customers can click to pay your electronic invoices (and pick up old ones online). Automatically invoice and bill credit cards for repeat customers automatically.
Automate debt collection
You don't have to make those dreaded phone calls asking for money. Automatically send out statements and reminders to automate your debt collection and improve your cashflow. Let the system do the dirty work.
Expenses tracked
Keep on top of your purchases by paying multiple suppliers at once using batch payments. Categorise expenses so you can run a Purchase Report to see where your money is going.
Avoid the spreadsheet jungle
Think you're too small for online accounting? Accurate financials that make sense is possible with online accounting. Spreadsheets can be error prone.
Reduce risk
Duplicate data and incorrect formula's are common spreadsheet risks. Saasu connects directly with e-commerce websites and other business systems to collect data accurately in real-time.
Collaborate with advisors
No more waiting on your accountant because Saasu presents your data in a usable daily results format in real-time. For specialist business advice and opinion they will still be the ones you turn to.
With the right tools, get more done
Spend less time reconciling receipts. Automatic bank feeds update your online accounting data file with new transactions daily. Remove transaction entry. Setup automatic coding of transactions in your bank feed.
Get organised
Make the most of down-time. Sign-in to Saasu online accounting from anywhere. Moments you have free can be used productively. Send some invoices or run reports. See how business has been this week.
Data privacy
Assign user roles to control who views and edits your information. This means staff and contractors can enter their own timesheets without seeing your sensitive information. Your team can work through Purchases and Sales without being able to see pay details.
Remove cashflow fear
Can I pay my bills on time? With our online accounting cashflow forecaster we automatically generate your cashflow 90 days into the future.