Saasu supports syncing completed orders from your BigCommerce store to your Saasu file.
Before you have the connector working successfully to sync orders, you need to ensure the products you sell in your BigCommerce store have been created in your Saasu file as inventory items, with inventory item Codes matching the SKUs in your BigCommerce store.
Sign into your Saasu file. From the main menu click the Settings cog icon and then click Settings (for this file).
2. Click On Add On Connectors tab and the click on BigCommerce and tick Enable BigCommerce check box.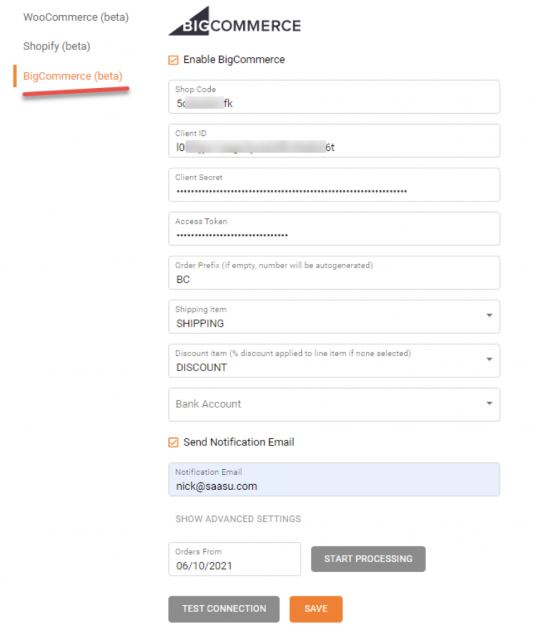 3. To get your Shop Code (Client), Client ID (secret) and Access Token, navigate to Advanced settings in BigCommerce admin portal:

4. At the bottom of the menu list click on API Accounts and choose Create V2/V3 API Token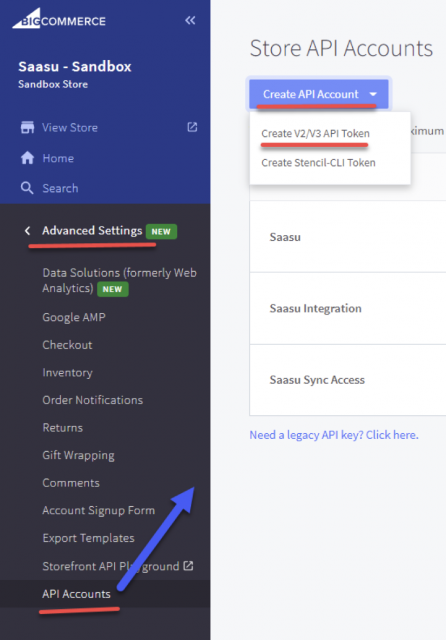 5. You will see API Path from which you find your Shop Code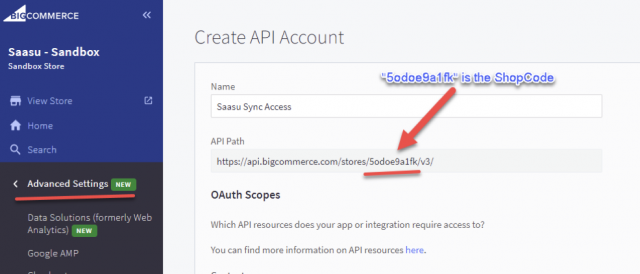 6. Select the following access options for the Sync Service: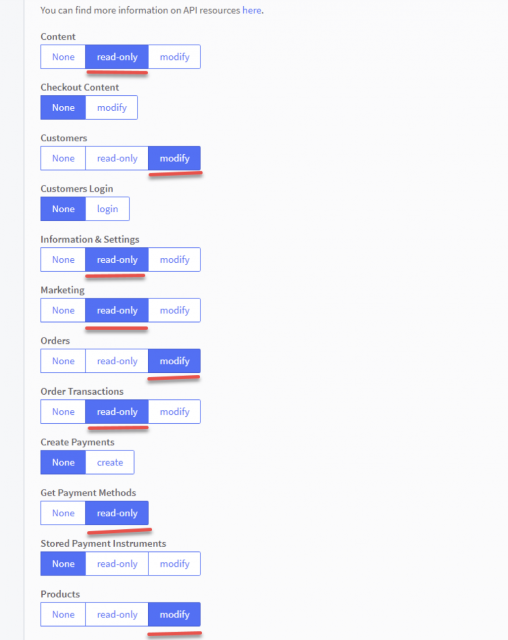 7. Click Save and you will be prompted to save the new credentials into file. Please do so because otherwise you will have no other chance afterwards to get the credentials. Also the credentials will be displayed on the form: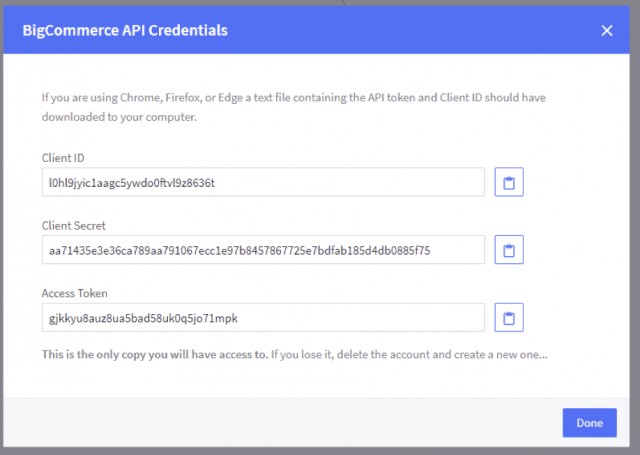 8. Please copy the Client ID, Client Secret and Access Token and paste them into the corresponding fields on AddOn Connector configuration page.
If you wish to distinguish orders created from the BigCommerce store, enter a prefix in the Order prefix field to append to the BigCommerce order number. Otherwise, Saasu auto-generates order/invoice numbers.
If you are charging for shipping goods from your store, select an inventory item from the Shipping Item drop down to record the shipping charges in the orders.
If you are selling discounted products, you can select an inventory item from the Discount Item drop down to record the total discount on the order. If not, Saasu will apply the percentage discount at the order line item level.
If you would like to be notified on the most recent sync status, tick Notification Email check box and enter an email address to receive the notifications on sync status.
Advanced Settings let you edit Tax overrides (not required if you have correct GST Code settings in your eCommerce store).
9. Then click Test Connection to verify if the connection was established.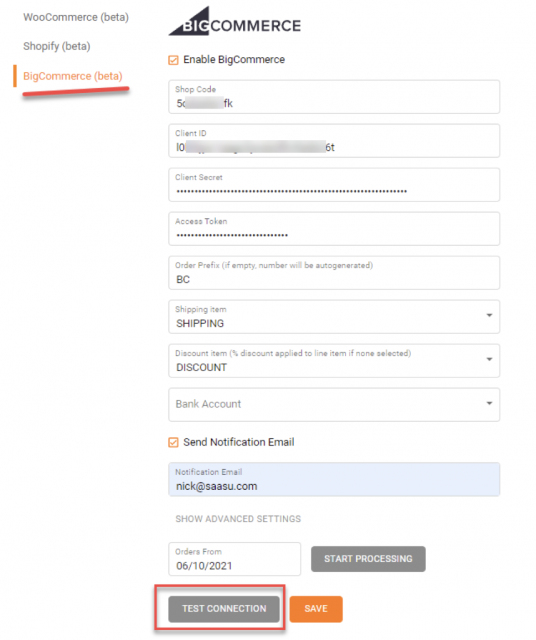 10. If connection was established, you will get a Connection successful message pop up.
11. After the connection is established, please click on Save to save the configuration. Please note, Test Connection doesn't save changes, it just checks if the connection may be established.
What happens next?
If you would like to sync orders in BigCommerce into Saasu back to a date in the past. Use the Orders From field to set the date and then click the Start Processing button.
After your BigCommerce settings have been saved successfully, Saasu will perform a sync between each every hour.
If you need to stop the BigCommerce sync at any point, untick the Enable BigCommerce check box and click Save.
FAQs
What exactly gets sync'd?
Red marked order statuses are currently ignored. They are skipped during sync.
| | | |
| --- | --- | --- |
| StatusID | Name | Description |
| 0 | Incomplete | An incomplete order happens when a shopper reached the payment page, but did not complete the transaction |
| 1 | Pending | Customer started the checkout process, but did not complete it. |
| 2 | Shipped | Order has been shipped, but receipt has not been confirmed; seller has used the Ship Items action. |
| 3 | Partially Shipped | Only some items in the order have been shipped, due to some products being pre-order only or other reasons. |
| 4 | Refunded | Seller has used the Refund action. |
| 5 | Cancelled | Seller has cancelled an order, due to a stock inconsistency or other reasons. |
| 6 | Declined | Seller has marked the order as declined for lack of manual payment, or other reasons. |
| 7 | Awaiting Payment | Customer has completed checkout process, but payment has yet to be confirmed. |
| 8 | Awaiting Pickup | Order has been pulled, and is awaiting customer pickup from a seller-specified location. |
| 9 | Awaiting Shipment | Order has been pulled and packaged, and is awaiting collection from a shipping provider. |
| 10 | Completed | Client has paid for their digital product and their file(s) are available for download. |
| 11 | Awaiting Fulfilment | Customer has completed the checkout process and payment has been confirmed. |
| 12 | Manual Verification Required | Order on hold while some aspect needs to be manually confirmed. |
| 13 | Disputed | Customer has initiated a dispute resolution process for the PayPal transaction that paid for the order. |
| 14 | Partially Refunded | Seller has partially refunded the order. |
Does Saasu support creating Sales Invoices from BigCommerce orders?
At the moment Saasu will only create unpaid Sales Orders. In the future we will add the ability to create invoices.
Does Saasu sync multi currency orders?
Saasu only syncs orders in AUD at the moment.
Does Saasu apply payments to orders created from BigCommerce orders?
Not at the moment. When we add the feature to create invoices we will add the ability to apply the payments at the same time.
Does Saasu sync changes to orders from Saasu to BigCommerce?
Saasu only supports a one way sync from BigCommerce to Saasu. It doesn't sync changes you make to BigCommerce orders in Saasu back to your store.
Will Saasu create inventory items in a BigCommerce order if they are not available in my Saasu file?
Saasu doesn't support BigCommerce product syncing at the moment so unfortunately no. You need to have the items setup in Saasu with item codes matching to BigCommerce product SKUs.
How do you handle creation of Contacts (Customers) and their addresses?
Here is the logic for creating/updating contacts (customers) so you know:
In BigCommerce, shipping address doesn't contain email and so when we process billing/shipping addresses we:
Billing address processing:
Check if there's a customer in Saasu with the same email as in BigCommerce order billing section.
If there's no customer with the same email then we create a new contact in Saasu.
If there is, then we're updating Saasu contact with: FirstName, LastName, City, Street, Postcode, State from BigCommerce orders in any case. And also the phone number if it's not empty in the order.
Shipping:
Check if billing and shipping has the same First/Last names.
If the same, then check address details of billing/shipping in BigCommerce order by matching First/Last names/Address.
If billing is the same as shipping, we're not doing anything.
If address is different then we're updating shipping details of billing contact in Saasu.
If billing/shipping First/Last names are different then we're searching contact in Saasu by First/Last name and if we found one then we're not doing anything, otherwise we're creating new contact in Saasu with shipping details from Bigcommerce order.
If an item / combo item is not available in Saasu, will this be reported in the notification email?
Yes if an item is not available in Saasu, an email will contain text among errors section. For example: *Order #999: Unable to find product with BigCommerce sku/code=sh-hoodie-with-logo
If an order is updated or cancelled in BigCommerce, would this need to be updated in Saasu manually?
At the moment we're not updating Saasu Sales Orders. You need to convert these to Tax Invoices in Saasu.
Do you check is a Sales Order already exists (to avoid duplicates)?
After we're processed an order it won't be processed again. We're checking if it exists already and if it does then adding text to the notifications email: "* Order #120: Invoice with number SHO120 already exists.".
How does BigCommerce's use of Shipping, Wrapping an Handling work with Saasu?
Shipping cost in Saasu is an aggregation of Shipping + Wrapping Costs + Handling Costs from BigCommerce.
Saasu has discount on line item but Bigcommerce doesn't. How do you handle that?
Saasu supports two methods to handle this:
1. Via a dedicated separate inventory item, which will absorb all discounts for an order, or the discount will be split
between all items.
2. If there was a discount coupon applied for entire order or for a one product and there's a promotion for a particular product on an order, then the discount will be split between all products, so the total discount will sum up the correct amount. The reason for this is the limited data in API provided by BigCommerce to associate discount with a specific line item.