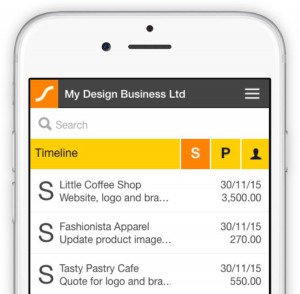 Online accounting on your mobile is hyper-convenient. You can be issuing invoices, checking your cashflow forecast, capturing expenses or looking up a business contacts.
What does it do?
Capture expenses on the fly and attach photos or images to them.
Create quotes, orders, invoices and email them.
Search your transactions and contacts instantly with Saasu Search.
Simple graphing of Sales, Expenses and Operating Profit for a 1, 3 or 12 month period.
View Cashflow Forecaster report for 1 month or 3 months (movement of forecasted transactions actioned on the web app).
Call or email anyone really quickly from your Saasu Contacts list.
Quickly flip between your different business accounting files.
How much data will it use?
Our online accounting mobile are very light. It would take very aggressive use of the app to get to 1GB of downloads in a 1 month period. It would require you to be uploading and downloading 1000's of images against transactions to hit that sort of data usage. Saasu isn't responsible for your data use so it is highly recommended you monitor your initial use over a few days and be sure you are happy with how the app behaves. This is easy to do:
Android: Search Google for "How to Check Data Usage on Android"
Apple: Go to Settings > Mobile > Scroll to the Saasu app in the "use Mobile Data for" section.
What data is stored on my device?
We don't store all your transactions and contacts. We only hold ones we need to display at any given time. We do this for security and speed reasons. Instead the app is really quick at collecting and displaying data without storing it long term. We do store tax codes and accounts as reference data. Which you can clear via the mobile app at any time in the settings area.
My phone is lost or stolen. What should I do?
Sign into Saasu via our homepage and reset your password. Then sign back in and go to COG > Settings > Web Services and reset your API Key. Lastly let service@saasu.com know so we can monitor any access to the mobile app.
Why don't you have Bank Feeds in the app?
We plan to release a separate app supporting creation of transactions from bank feed data. This current app is for the simple cases of creating quotes, invoices and orders and some contact management every Saasu user can use.
Why don't you have Reports?
We plan to release a separate app focusing on reporting. We feel this area deserves it's own focus. Not all Saasu users will need it or should have access to it so we want to run that separately.