What is Single Touch Payroll?
Single Touch Payroll changes the way employers will report their salary and wages, pay as you go (PAYG) withholding, allowances, deductions and superannuation information. Employers will now be required to report PAYG and super after each payroll has been processed, rather than reporting monthly, quarterly or annually, as it was previously.
When does Single Touch Payroll reporting start?
The start date will depend on how many employees you have:
For employers with 20 or more employees, single touch reporting will be mandatory from July 1, 2018
For employers with 19 or less employees, single touch reporting will be from July 1, 2019
If you have less than 20 staff, and would like to start reporting via STP before 01/07/2019 then you can do so.
Before you start using STP
You can ensure that you're ready to go with using STP reporting by reviewing our Getting Ready for STP article.
Note: Using Pay Runs, rather than individual pay roll entries, is the recommended method to process pays when using Single Touch Payroll reporting, even if you only have a couple of employees. You may need to first setup Pay Runs if you're not already using them.
Single Touch Payroll Report
Once you've processed your pay run, the next step is to submit that data to the ATO. You can do that by running the Single Touch Payroll Report. You can run this using a few different filters, depending on what report type you want. The report types are:
Regular Pay Event – this is the report you send to the ATO after you have processed your pregular pays
Final FY ATO Pay Event – this is the report you send to the ATO after all pays have been processed and paid for a financial year, including any termination payment.
Replace ATO Pay Event – this will allow you to replace the most recent, successful Regular Pay Event you previously submitted. This is ONLY allowed for Pay Runs.
Pay Event History – this report will display a list of the historical lodgements, with information regarding status, acceptance or failure due to particular errors.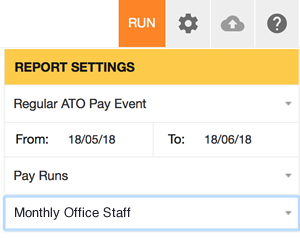 Submitting your STP report to the ATO
After you have processed your regular pay run:

Click on Reports > Single Touch Payroll
Click on the cog icon, select Regular Pay Event, specify the report settings and click Run.
The data that matches your settings will be displayed and can be checked for accurancy.
Ensure that the pays to be submitted are ticked (pay runs will be pre-ticked and can't be modified) then click the Upload icon.
Before the report is submitted to the ATO you will need to authorise the submission by agreeing to "Sign declaration with my email address" (this is the email address you are signed into Saasu with) and click Submit.
The ATO has a standard response time of up to 72 hours before the upload is accepted and successful. At times, this may be quicker and could be as little as 10 minutes. You can move away from this screen and continue to work on other things in Saasu while the STP report is being processed.
Remember to come back to the Single Touch Payroll Report screen (Reports > Single Touch Payroll) about 10-15mins after you have submitted a regular Pay Event. This is to ensure the submission has been accepted by the ATO, and there are no errors that need further attention. If you haven't moved away from this screen then you may need to refresh your browser to see the updated information.
Note: Once a Pay Event has been submitted to the ATO, you cannot submit any further Pay Events until the previous submission has been accepted or, if rejected, the submission result actioned.

Viewing submitted reports
Click on Reports > Single Touch Payroll
Click on the cog icon, Select Pay Even History, specify the date range and click Run
The data that matches your settings will be displayed
Submitting Finalisation information for a financial year or a departing employee
A Finalisation event can occur anytime during the financial year, however usually it would be after processing the final pay cycle for a financial year.
When you run the STP report using the Final FY ATO Pay Event filter, you need to select the beginning and end of the specific financial year for pays you want to finalise e.g. 01 Jul 2018 to 30 Jun 2019.
You will then be shown a list of employees who have a payroll entry for this financial year, and there hasn't been a previous finalisation event sent to the ATO. The list will only show the latest information that has been submitted successfully via a Regular Pay Event for the selected financial year.
Note:
Pay Runs – You can only submit one pay run at a time. The pay run name will be displayed next to each pay record.
Payroll – Any individual payroll transactions (not run as part of a pay run) needs to be finalised separately, one at a time.
You cannot finalise payrun and payroll records in one pay event.
If an employee is part of a pay run, but has a manual payroll payment processed since the pay run was submitted, they will have to be finalised separately to the rest of the pay run.
You can only submit a Finalisation event for pays from FY 2018-2019 onwards. You will need to process PAYG Payment Summaries for 2017-2018 in the previous manner.
To submit the finalisation to the ATO:
Tick the checkbox for each employee that you want to include in the finalisation
Click on the Submit icon
You will find more information about Finalisations in this ATO help note.
FAQs
What withholding types can I report via STP in Saasu?
The Saasu STP reporting will be supporting most withholding amounts that are currently reported as part of individual non business payment summaries.
Unfortunately we will not be supporting the following withheld amounts* via STP:
Business and personal services income amounts including Voluntary Agreements, Labor Hire Arrangements and other specified payments
Foreign Employment income amounts including JPDA (Joint Petroleum Development Area)
Seniors and pensioners tax offsets
* Please refer to the ATO website for more details on each of these withholding categories.
Can I include Reportable Fringe Benefit Amounts via STP in Saasu?
Unfortunately the Saasu STP reporting cannot report on Reportable Fringe Benefit Amounts. These will need to be submitted manually to the ATO, ensuring your manual payment summary for this amount does not include any other amounts that have been reported through STP.
Will I still need to submit or generate annual payment summaries for my employees?
If you use Single Touch Payroll reporting, you may not need to submit a payment summary report and provide payment summaries to your employees. The ATO should be able to provide more information about your specific requirements regarding payment summaries.
Can I make PAYG or SGC payments through Single Touch Payroll?
Unfortunately no. At the moment Single Touch Payroll is only a reporting solution and doesn't handle payments. You will still need to make PAYG and superannuation payments separately.
What if I made a mistake on a report that has already been submitted to the ATO?
If you find a mistake on a pay event that already been submitted via the STP report and accepted by the ATO, then there are two ways you can make an adjustment.
Method 1 – Replace ATO Pay Event via STP
You are able to use the option Replace ATO Pay Event if:
If the previous Regular Pay Event you submitted was for a Pay Run
The Pay Event you need to replace is the most recent Pay Event and has previously been fully or partially accepted by the ATO.
To replace a previous pay event you will need to:
delete the recent Pay Run that has the error (the whole pay run needs deleting as you're unable to delete just the pay in error
re-run the Pay Run for the correct date and date range
run the STP report and choose the Replace ATO Pay Event
check that the information about to be submitted is correct
click Submit
Note: You can't make an adjustment by Replace ATO Pay Event (known as full file replacement) if any employee information submitted in the original pay event file has been changed by a subsequent pay.
Method 2 – Create an adjusting entry on the next pay
If you identify an error for a previously submitted Regular Pay Event on an individually created Payroll or a historical Pay Run, then you can add a correcting line item on the next pay for the employee concerned. This will then be picked up when you submit this entry in your next Regular Pay Event.
Which users can access the Single Touch Payroll Report
Only users with the Full User Role can access the STP report. Any custom user roles, or roles with Read Only, or Denied will not be able to access this report.
What is MessageXchange?
MessageXchange is a secure SBR enabled gateway whitelisted by the ATO as STP compliant. All STP reporting from Saasu is forwarded to the ATO via MessageXchange.