Working in a small business, you're constantly being pulled in every direction.
Every day you look for better ways to squeeze an extra few minutes of efficiency from your workflow.
For me personally, this means finding quicker ways to do things so I can get more done, help more people and answer questions faster. So here are my favourite small hacks that can speed up your work in Saasu online accounting.
Printing Invoices
Customers often like to receive copies of all outstanding invoices instead of a bulk statement that just shows totals for each invoice.
I had a customer call me and ask for a better way to do this as they were opening each invoice, clicking on Print PDF, saving it and then moving to the next one. This was so time-consuming!
What you can do is use the search parameters on the Sales screen to display only the Unpaid invoices for only that customer. After clicking on Show, you can click on the tick box in the top header row of the results to select all and then click on Print PDF. By saving this to PDF you'll have a copy of all of the Invoices, in full, to send to your customer.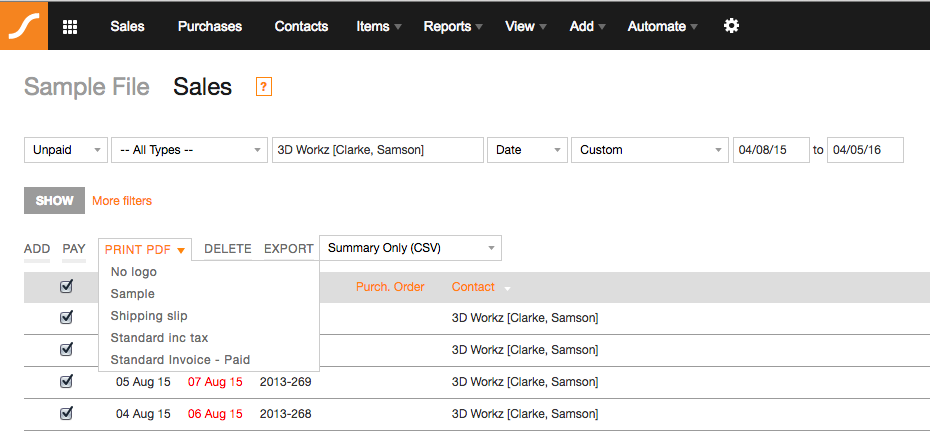 Getting a better picture of your bank feed
Okay, so this one is not so much a Saasu hack as it is an internet browser hack. When you view your bank feed in Saasu, you can view 25 transactions at a time. This is so that the page loads fast and you're not drowned in information. But sometimes you want to see more.
What you can do is scroll down to the bottom of your bank feed page and click on the next button to move to the second page. This will change the URL (the web address in your web browser) and display the following text: pagesize=25.
By simply changing the number from 25 to say 100 or 1000 you can view a large number of bank transactions on one page. Of course this will take a little longer to load but it's a great way to get a better view of your bank feed transactions.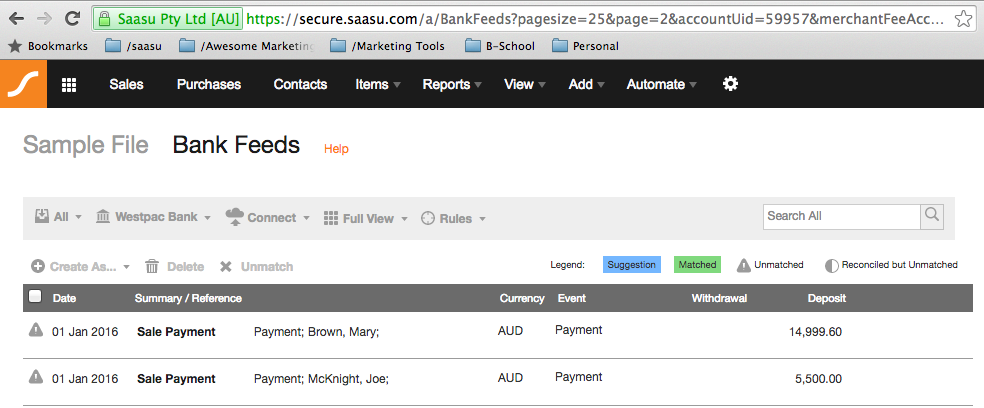 Use Ctrl + F (Win) or Command + F (Apple)
One of my favourite features of Saasu has always been the search function Search. It instantly brings up results for customer names, invoice numbers or invoice values, which is very useful
But on some occasions I want to find something that JUMP can't search for. For example, I want to search my bank feed for a deposit from a customer who has used an obscure reference for the transaction.
I can easily do this by going to the page that I want to search and using the keyboard combination of Control + F or Command + F (for Apple users) to bring up a search box that you can use to search every part of that page.
This is also useful when sifting through a large General Ledger Detail report when I want to jump from account to account. Instead of scrolling forever, I can just use the find function to skip to the one I want.

Contact Us
Contact Us (in Saasu) is one feature I love to see our customers using. When you run into an issue, the best ways to get through it are to check our online accounting help or Contact Us. We are here to help make your workday easier and I really enjoy working with customers.
Now the reason why I've put this in my list of favourite hacks is because when you submit a question to us using the Contact Us form, Saasu automatically provides our team with information about who you are and which file you're using.

By also giving us clear information on what you're looking to do or what you're having trouble with, we can provide you with quick help to save you time.
We spend all day working with Saasu so we can find the fastest and best ways for you to run your small business financials without a headache.