Online Accounting
Bank feeds, online invoices, expenses, cashflow, inventory and single touch payroll from $15 per month. Online accounting that's made in Australia for small business.
Stage one of the New Saasu arrives August 2020
Get email updates about releases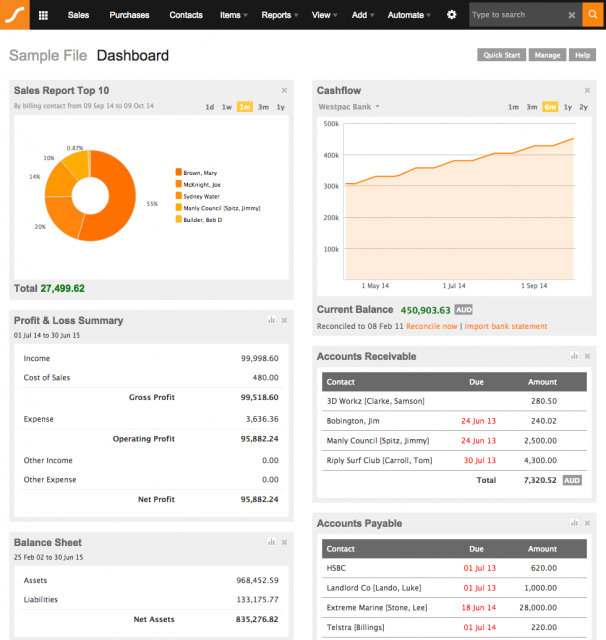 $200 Billion of online accounting transactions managed.
Australian owned and operated.
What is online accounting?
Saasu is browser and mobile online accounting (Apple or Android).
We securely manage, backup and upgrade online accounting data on private cloud servers at Amazon and Rackspace in Australia.
Learn about online accounting features.
Who's it for?
Saasu online accounting is designed for sole traders, contractors, startups and small businesses. Thousands of product and service businesses use cloud accounting to run efficiently. BAS and Single Touch Payroll are in all our plans.
What our customers say
I'm not an accountant and I don't want to hire one just to get on top of my expenses and BAS returns. Saasu helps us little guys to know where we stand in our business so we don't drive with our eyes closed.
Anthony English, Business coach
Online Accounting Benefits
Anywhere, anytime
Saasu supports you working from home, in an office or on the road. Create professional quotes, invoices and view business performance on-the-go. Collaborate with your advisors with simple real-time reports.
Automate data entry with bank feeds
It takes a few minutes to setup Bank feeds and your transactions will start coming across to Saasu online accounting automatically.
Accept payments
Accept credit cards straight from a Saasu online invoices using payment services like eWay, Stripe and Paypal. Get paid on the go. Better for you and easy for your customers because they can manage their invoices online.
Data synchronised
Saasu connects with popular business tools. Your inventory and customers are in synch with several e-commerce platforms. Connect to PayPal, eWay, Stripe, Shopify, Magento and more.
Real-time reports
Keep on top of your business performance and cashflow with built-in reports and your small business dashboard. Tags allocate contacts and transactions into jobs and projects.
Live cashflow
Get paid sooner by invoicing your clients on the spot. It feels great to bill people as you finish the job. Keep track of your future cashflow that looks 3 months forward.
Professional invoices
They make you look good. Customers can click to pay your electronic invoices (and pick up old ones online). Automatically invoice and bill credit cards for repeat customers automatically.
Automate debt collection
You don't have to make those dreaded phone calls asking for money. Automatically send out statements and reminders to automate your debt collection and improve your cashflow. Let the system do the dirty work.
Expenses tracked
Keep on top of your purchases by paying multiple suppliers at once using batch payments. Categorise expenses so you can run a Purchase Report to see where your money is going.
Avoid spreadsheets
Duplicate data and incorrect formula's are common spreadsheet errors. Saasu connects directly with payment systems to collect transactions accurately in real-time.
Data privacy
Assign user roles to control who views and edits your information. Staff and contractors can enter their own timesheets without seeing your sensitive information.
Remove cashflow fear
Can I pay my bills on time? With our online accounting cashflow forecaster we automatically generate your cashflow 90 days into the future.
More info…
Online Accounting Updates
Get Started Today with a 30 day FREE TRIAL
Subscribe to our online accounting release updates