At Saasu, we love tech businesses. Being a small tech company ourselves, we understand what goes on behind the scenes and what you need to keep the cogs spinning. That's why we've compiled a few handy features in Saasu to automate, keep you efficient, and pull your focus back to the development of new and brilliant ideas.
If you're a tech business focussing on software, chances are you're already actively using (or thinking of using) a software-as-a-service and/or subscription-based business model. These models have become very popular in recent years, with more and more tech businesses shifting to subscription in lieu of perpetual licenses. Pretty unsurprising given the multitude of benefits that the model gives to both the company and the consumer.
Recurring Billing
Saasu's recurring credit card payments feature will help your business get paid even faster by allowing customers to opt in to secure, repeat credit card payments. There are a number of benefits to switching to a recurring billing payment method – including improved cash flow, growth predictions, and somewhat reducing the hassle of chasing down overdue payments.
Automated sales can also be set up for activities like web hosting, SEO work, monthly social media work etc. Basically, any tech services you provide on a recurring revenue model basis (subscription income) can take advantage of this feature.
It's always great to try and lift your recurring revenue game as one-off revenue can sometimes be hard to come by. That's why seeking recurring revenue and supporting it operationally with Saasu can be a help in not positioning your business to not just survive, but thrive.
Currently, recurring billing is only supported for the Stripe payment gateway (although additional payment gateways will be added in the future). There are a couple of steps necessary to connect to a payment gateway which you can find
here. You'll also need to create or update an existing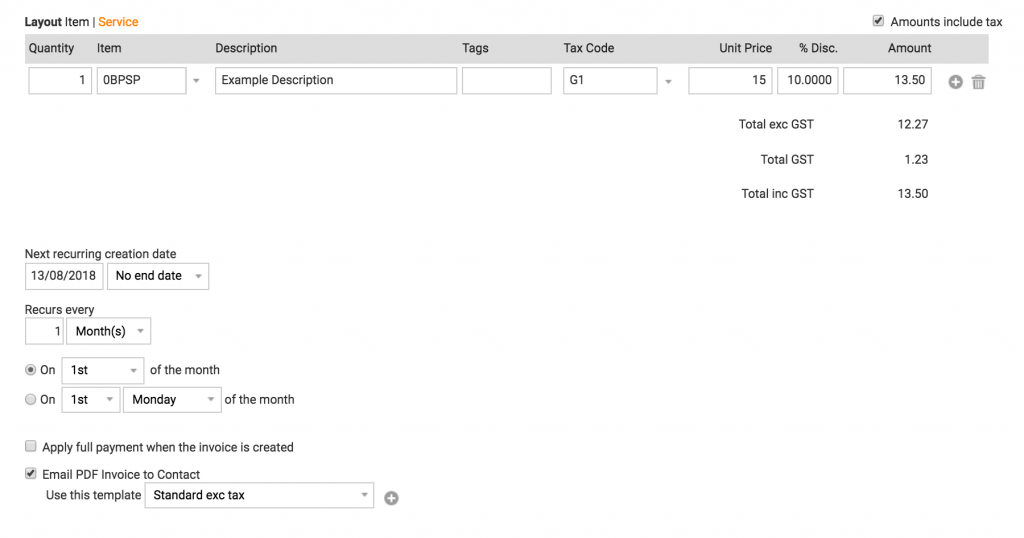 Cash Flow Forecaster
For all tech businesses, managing your development time and the costs associated is essential to getting the most out of your business. The Cashflow forecaster is an incredibly useful tool that enables live forecasting of your cash flow utilising the information you've entered into Saasu. The more information you put in, the more accurate your forecast becomes. If you're looking to make smarter business and development decisions, having a clear view of your current projected cash flow can help you figure out what projects you can focus on next.
Finding the forecaster is a simple click away from the Saasu dashboard:
Reports > Cash Flow > Forecaster
For users in the Saasu web app, you can quickly and easily identify where your money has or should come from for particular dates. Or if you're wanting to check your cash flow on the go, the Forecaster is also available in our mobile app, where you can view your 1-month or 3-month projections wherever you are.

Find out more information in our Cash Flow Forecaster help note and make use of this tool to help your business today.
Recurring Statements
Chasing down payments can be a hassle to say the least, so sometimes it's better to just let a computer ask customers for payment. Recurring Statements can be used to assist in collections. Automating statements for payments can maintain your good relationship and sales rapport while depersonalising the negative experiences.
You can set the statement period, frequency, and the minimum number of days overdue before the statement is sent. You can also edit the template to include sender details, payment notes, and other information such as links. These customisable areas in your invoice/statement communications can be used to offer your other products or link to promotional content, turning something negative (asking for money) into a neutral or even positive experience.
You can navigate to the recurring statements screen from the 'Automate' tab within Saasu.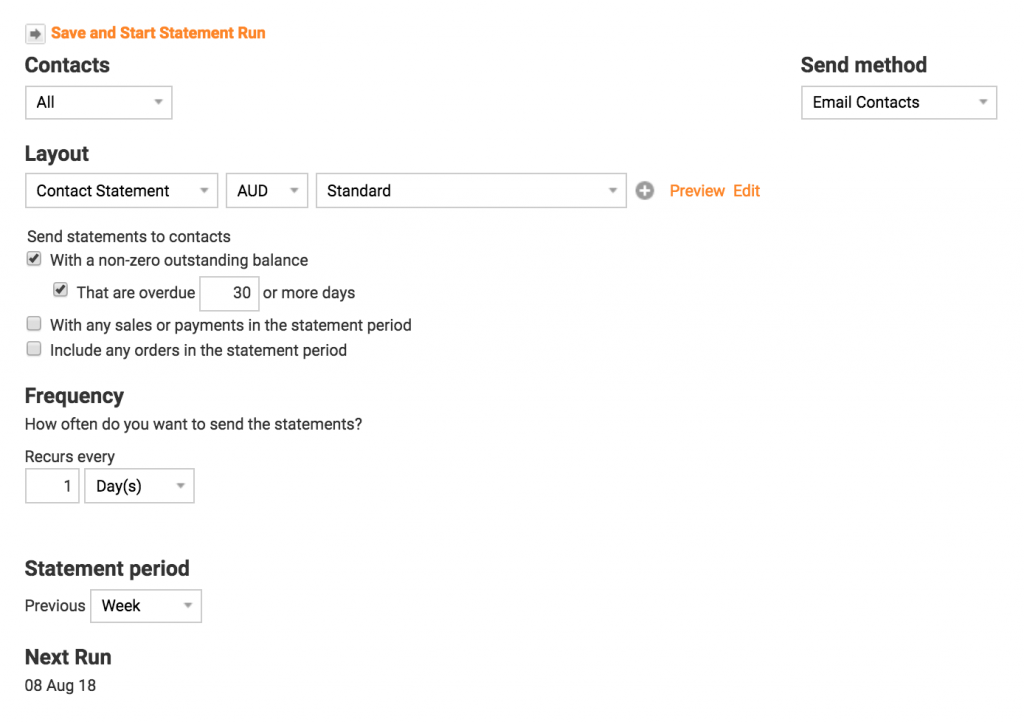 Pricing
At Saasu, our philosophy has always been to keep a minimalist approach to business.
We believe in the value of calculated simplicity, which is why we would recommend against offering too many billing rates, products or services to choose from. Typically, humans like to pick from three choices. Given two or three choices, it's relatively easy for the brain to distinguish which of these elements is preferable. Take the three bowls of porridge in the childhood story of Goldilocks and the Three Bears for example. One is too hot, one is too cold, and one is just right. We see the same minimalist approach to choice in many real-world scenarios. Two prominent examples could be the fast food industry, with small, regular and large meals, or the airline industry, who often offer flights with a base of economy, business and first class.
Discounts
Software-as-a-service (SaaS) companies often struggle with selecting a suitable pricing strategy for their products and services. Whether your software uses a flat rate, usage-based, per user, tiered pricing or any other pricing strategy, discounts can be a valuable tool in assessing the effectiveness of your current pricing, incentivising new customers, or increasing loyalty with your existing users. Some ways discounts could be applied for tech businesses might include a sign-on discount (percentage off the initial cost) or an initial period discount (e.g. first 3 months at 10% off the standard rate).
If you're looking to give some of your best (or new) customers a discount, Saasu provides the option to apply a percentage (%) discount applied on the individual customer's contact page. This percentage can be easily adjusted without touching your base price or calculating the discounts manually. For example, you might be interested in giving Sue Storm a discount for 10% off. Whenever you do an invoice for Sue, the pricing will be automatically calculated with 10% off the regular price.
To apply a discount, simply enter a discount percentage into the field under the 'Default discounts' section on the customer's contact page. For more information, visit the Discounts help note page.
Add-ons
Saasu is compatible with a variety of add-ons to help you do online business more efficiently and save time for development and exploration. From payment to time and project management add-ons, utilising the wide array of add-ons available can help you automate a bunch of the busywork and get you back to your other essential tasks.
When selecting add-ons, it's crucial to be selective to reduce the risk of creating a digital birds nest with your operational systems. The Pareto Principle argues that roughly 80% of the effects come from 20% of the causes. We would recommend curating down and implementing only the most beneficial add-ons. For out more information and a complete list of Saasu compatible add-ons here.
Managing Time as a Commodity
If your business involves providing a physical service in the tech industry, such as repairing, building, or installing hardware. You might be interested in setting up an effective way of managing the compensation of your time. Saasu offers a couple of ways to simplify this aspect of your business, whether you're charging customers, purchasing time-based services, or paying your employees at an hourly rate.
Timesheet Payroll & Time Billing
The Timesheet area of Saasu allows you to capture time blocks and add notes on how the time was allocated. You can find timesheets under the payroll menu in Saasu. For more information on timesheets, visit our Time Sheet help note to get set up.
In Saasu, time is treated like any other commodity. To charge for the time, you use an Item Sale. Inventory items can be created for Time Blocks (minutes, hours, days), Fixed Rates (for regular service charges) and Package Rates (bundling products and services). Visit out Time Billing help note for a quick guide on how to set up Time Billing in Saasu.
If you're looking for a more comprehensive way to manage your timesheets, take a look at the Time & Projects section of our add-ons page for a solution that fits and improves the way you do business.
Labour Costs in Items
If your business involves frequently combining components and time-based work, creating combo items can be an absolute game changer. In a similar vein to time billing, labour costs are commodified in Saasu as items. Comboing items and labour costs can be a great way to save time quoting and managing your regularly purchased services. An example could be if you commonly sell a particular piece of hardware with a standard installation time that rarely varies.
Take a look at our help note to find out more information on utilising labour costs as items, including a useful step-by-step process.
Hourly Rates
If you're a business with a few employees who work with time as a commodity, you can set up hourly rate/s for your employees. There are two ways to set hourly rates for employees in Saasu:
1. Set the individual employee hourly rates using the Edit Employees screen. This can be done by selecting 'hourly' next to 'Pay rate method' then inputting your desired rate in the 'Regular hourly rate' field. This method is the go-to for setting individual hourly rates among your employees.
Or
2. Set up an hourly rate using an hourly rate pay item. In the Pay Item screen, you can set up your pay item to use a fixed hourly rate for all employees using this pay item. It's important to note that this method supersedes the Employee Details screen hourly rate mentioned above, ignoring it if one already exists when you use this pay item.
When setting up an hourly rate as a pay item, you will need to set a code and description for the item. For a practical example, at Saasu, we use the codes HR-SD for "Hourly Rate – Senior Developer" and HR-BA for "Hourly Rate – Business Analyst".
Mobile App
Available on both iOS and Android, Saasu's mobile app gives users the flexibility to keep track of their business wherever they may be. The mobile app allows you to quickly add new Saasu contacts, sales and purchases, search Saasu contacts and call or email them from within the app, and more. Since version 1.0.17, we've also released the
Cash Flow Forecaster for the Mobile App, meaning no matter where you are, you can check your cash flow and make strategic decisions based on the best and worst case scenarios projected.